Course Introduction
Four Skills Course [SA500]
Our Four Skills course gives an introduction to major English proficiency tests and prepares students for all-English higher education. The four-term course covers TEAP, IELTS, and TOEFL over the first three terms. The last term focuses on essential academic skills such as giving effective presentations and note-taking. This course is led by both a native English-speaking instructor and a Japanese instructor who is fluent in English. Each session meets for three hours. After completion of this course, students will have a better understanding of the different tests they may have to take for college admission. They then have the option of enrolling in advanced courses specialized in IELTS, TOEFL, or SAT.
TOEFL Intermediate – Advanced [SA550][SA580]
The Test of English as a Foreign Language, or TOEFL, is the most commonly used test in North American colleges. The TOEFL assesses a student's ability to communicate in English. This test is less about pure English grammar and vocabulary and more about one's ability to use English in academic settings.
Our TOEFL program follows a four-term yearly schedule with each session meeting for three hours. Using materials that accurately reflect real TOEFL questions, the native instructor ensures students gain extensive experience in all areas of the test and presents effective strategies for achieving the highest possible TOEFL score. Students are given ample opportunity to practice speaking and writing tasks, and will receive regular feedback. In addition, students participate in weekly group discussions about a range of stimulating and intellectually-chal-lenging topics.
SA550 and SA580 are designed to prepare students for English-language academic study. Students who complete the TOEFL program are encouraged to apply for our SAT courses.
Course Details
| | |
| --- | --- |
| | Four Skills Course / TOEFL Courses |
| School hours | 3 hours per week |
| Tuition | ¥33,000+tax |
| Material Fee | Request separately for each course |
From Lecturer (TOEFL)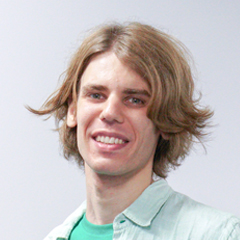 Robert Grayson
Bachelor of Arts in Linguistics and Japanese
I teach the Four Skills Foundation, TOEFL Intermediate and TOEFL Advanced courses. These classes are aimed at students who wish to study in the US and other countries, or otherwise wish to enter English-language academic programs. In the foundation course students are introduced to several four-skills tests and become accustomed to reading, listening, writing and speaking about academic topics in English. Those who opt to continue into the TOEFL branch of the Scholars' program can hone their skills and raise their TOEFL scores to the highest level.
Student's Voice
I think the good point of studying in the SA550 course is that we can use authentic English. In Japanese schools, we only go to lectures and do not have much interaction between the teachers and the students. Here in J PREP, we can talk with the teachers and students easily. The course also helps me take English tests. For example, I can practice speaking and listening skills with real people and receive feedback from them. For the readings, because the class is small enough, everyone can ask a questions. I would recommend this course to students in ES courses who have never lived abroad. Some of my friends have better grammatical knowledge in English than I do, but their speaking proficiency is not very high. Therefore, this course would be good for them.
(KEIO GIRLS SENIOR HIGH SCHOOL 1st Year)
I have been learning English in this school since I was in grade 7. Now, I am in the TOEFL Advanced class. Here at J PREP, we learn four different types of English skills: reading, writing, listening, and speaking, so we can improve our skills evenly. We also have discussion class every week, so we can learn how to communicate or show our thoughts to others in English and this teaches us the way to use English in our daily lives. I am a returnee, so I was afraid that I might forget English. By learning in this school, I get to have to use English once a week other than in school. Now, I do not forget English that much and J PREP also improves my English skills, so I am glad that I am learning a lot here.
(SEIKEI SENIOR HIGH SCHOOL 1st Year)