IELTS [SA530]
The International English Language Testing System, or IELTS, is the most widely accepted test used by academic institutions around the world. It assesses whether students are ready to begin studying or training in an environment where English is used, and reflects some of the features of language used in academic study.
Aimed at high-school students planning to enroll in universities abroad or international programs in domestic universities where English is the language of instruction. Our IELTS Foundation program follows a four-term yearly schedule with each session meeting for three hours and led by a native instructor. This program introduces them to the different sections of the IELTS Test as well as providing them tips and strategies along the way.
After completion of the IELTS Foundation program, the Advanced program further refines their test-tak-ing skills with constant drills focusing on their areas for improvement. This will ensure that students get through the IELTS Test successfully. After getting the required test scores for courses they have applied for, students can then join CAC (College Admission Counseling) .
SA530

School hours
3 hours per week
Tuition
¥33,000

+tax

Material Fee
Request separately for each course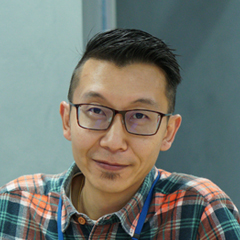 Michael Tan
Bachelor of Arts in International Hospitality and Tourism Management
I teach the IELTS Foundation and Advanced Courses. The courses are aimed for students who intend to enroll in universities abroad or international programs in domestic universities. Students are introduced to what IELTS is and the strategies used in the foundation course. The advanced course further refines their test-taking skills to ensure they achieve the necessary scores for college admission. Both classes also include video and article discussion across a range of topics every week that test their critical thinking skills, at the same time using topics that may appear in the IELTS Test. Upon reaching their target scores, students can then move on to the College Admission Counselling program. Using over 15 years of test preparation experience, I enjoy getting students ready for the test and take pride when they attain their goal.
The most appealing point about J PREP is the variety of high-level classes. During discussion, we cover academic topics as well as social issues. We get the chance to share our opinions with classmates in English, and I always learn something new. I started coming to J PREP during my third year of middle school, and at the time my English grades were average. Since then, my English ability has consistently improved. Now I am aiming to go to college abroad. This is something I would never have even considered back when I was in middle school. This year I joined our new IELTS class, and I am studying to get the necessary score for my studies abroad. J PREP has greatly expanded the possibilities I see in myself, and for that I am grateful. I look forward to continuing my studies at J PREP.
(Gakushuin Girls' Junior & Senior High School 3rd Year)