J PREP Scholars specializes in standardized test preparation, university admissions consulting, and custom-designed academic courses and mentoring rooted in the liberal arts for all students. We strive to help grow a generation of educated and confident youth who are prepared to handle the challenges of post-secondary education and beyond. We are committed to helping our students develop the skills and knowledge needed to achieve success in their educational and professional endeavors.
Our team consists of graduates from top universities around the world and brings unrivaled expertise. We are not only scholars, but also leaders from diverse backgrounds. Our team consists of teachers from around the world with a range of educational and professional experiences.
Gifted Scholars [LA400]
This course is designed for advanced junior high school students with a near-native level grasp of the English language. Students are challenged to read and understand important English texts, discuss ideas and current events in English, and learn essential academic skills such as research, writing, oratory and presentations. Classroom discussion material will be drawn from a wide range of topics in literature, philosophy, the arts, technology, history and social issues. Independent thinking and work management are encouraged, and students will have the opportunity to work on a self-guided learning project.
Great Books [LA500]
For younger students, this course will serve as an introduction to several famous works in English. Students will do reading assignments at home and come to class prepared to ask and answer questions about the books. Students will learn critical reading skills and discussion as they talk about the books.
While Great Books Advanced focuses on books that are typical of American high school and college-level courses, the book selection of this course is aimed at books typical of Jr. high school and high school level required reading. Students should have a good level of comfort reading in English if they are considering this course.
Great Books Advanced [LA600]
For students who love reading and literature, this course will present a number of famous "great books" for study and discussion. Students will do reading assignments at home and come to class prepared to ask and answer questions about the books. Students will learn critical reading skills and discussion as they talk about the books. The books in this course are at the level of some required reading for High School and College-level students.
The books are not abridged or simplified in any way, so students should feel comfortable reading in English if they are considering this course.
Academic / Narrative Writing [LA510]
Our Academic and Narrative Writing course will introduce students to different ways of writing in English that will be useful in any academic or professional track. In this course students will read and discuss various writing samples, as well as be expected to write their own material based on the themes or styles that they are studying.
Students who join this course should be moderately comfortable writing in English, as the main focus of this course is advanced level writing. Basic grammar and vocabulary is not the focus. Rather students will learn about style and different modes of expression.
Intro to Science and Technology [LA511]
This is an introduction to several advanced-level scientific topics. Physics will be roughly half of the course, followed by other scientific and technological areas. In class, there will be a mix of lecture and instruction, as well as practice problems and some experimentation.
Students should have a fairly strong math background to enter this course. Practice problems
are based on the SAT Physics exam, so that should be considered as the approximate level of difficulty in this course.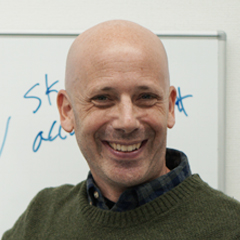 Jonathan Ingram
Education: BA, Georgetown University
In Great Books classes, I try to follow the model used in competitive American high schools. Books are drawn from the list of texts considered in Advanced Placement tests, and students discuss not only the books we read, but also a variety of critical approaches to literature. My goal is for students to feel comfortable and confident with any literature in English that they encounter, either in their studies or in their private lives. Consistent with the culture of elite American schools, classes are taught in a seminar style, with students expected to actively participate in analytical discourse. My role as instructor is to ask questions more than I lecture, and to encourage students to work through issues together in a collaborative and rigorous way.
In the Scholars Writing Class, students learn to view serious writing as more of a process than a product. We work together on writing in a variety of genres and styles, from essays to interviews to works of fiction; the consistent thread that runs through the course is that good writing takes time, and that the most important step in any writing is thorough, patient revision. All writing assignments go through several drafts, and students can return to any of their projects at any time if they are inspired to do so. While discipline is emphasized, we also do a few fun writing games and exercises every week so that students can discover the joy of writing: writing without joy never leads to good work. Students occasionally share their work in a workshop format, as serious writers need to be part of a creative community in order to flourish.
I have never lived abroad nor been to international schools in my life. However, I am able to discuss important issues and talk with other returnees in my school with no difficulty and that is because J PREP provides high-level lessons in every class. In my school, nearly half of the students are returnees, so English class is divided by levels. Because of the great speaking and reading lessons, I am now in a class for returnees and can keep up with their English. J PREP broadened my future options. I wish to work at UNHCR in the future, using the English skills I learned at J PREP.
(Tokyo Gakugei University International Secondary School 2nd Year)
In the Great Books class we discuss things related to a book we read for homework. Although there are some books such as Hamlet which are difficult for me to read, the teacher explains to us precisely about the important parts. I am then able to get a better understanding of the books. I chose the class to improve my reading skills. In addition, there are other students in the class, so I am improving my speaking skill through discussions as well. Overall, J PREP has given me confidence in my English skills.
(Keio Shonan Fujisawa Senior High School 2nd Year)