Course Introduction
Our Four Skills course gives an introduction to major English proficiency tests and prepares students for all-English higher education.
The four-term course covers TEAP, IELTS, and TOEFL over the first three terms. The last term focuses on essential academic skills such as giving effective presentations and note-taking. This course is led by both a native English-speaking instructor and a Japanese instructor who is fluent in English. Each session meets for three hours.
After completion of this course, students will have a better understanding of the different tests they may have to take for college admission. They then have the option of enrolling in advanced courses specialized in IELTS, TOEFL, or SAT.
Course Details
| | |
| --- | --- |
| School hours | 3 hours per week |
| Tuition | ¥33,000 + tax per month, materials fee |
From the Lecturer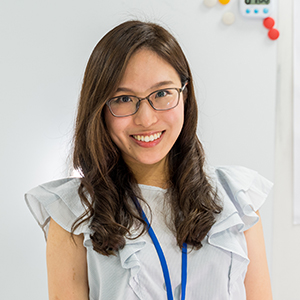 Louisa Poon
Bachelor of Arts (Honours) in English for the Professions, City University of Hong Kong Master of Arts in Critical Discourse, Culture and Communication University of Birmingham
SA500 is a four skills course for students who are interested in taking domestic and international English tests such as TEAP, IELTS, and TOEFL.The course not only introduces the tests and offers chances for practice, but it also discusses skills needed for achieving academic success at a tertiary level. Most current SA500 students are those who are interested in studying abroad in two or three years' time, and/or international school students.
Apart from the introduction to famous English tests, the course also provides students with opportunities to discuss intellectual topics in English, which fosters students' speaking confidence.
As a former university lecturer teaching academic writing and IELTS for eight years, I am happy to help students with their writing skills and give them tips on how they can be better prepared for the tests and overseas study.
Student's Voice
I have been in J PREP since the 1st grade of junior high school. In Scholars, all the classes are held in English.
If we don't know some words in the class, we need to explain them by using other English words to help the teacher and our classmates understand. Then the teacher tells us the word which we were trying to say. I think this process increased my vocabulary. Searching a word on the Internet is fast and easy, however, I easily forget the words which I learned through this process.Because of this, I can communicate in English more confidently than before.
The most enjoyable time for me is discussion time. We are given tasks to think about some themes by reading articles or watching videos in each lesson. In class, we exchange our opinions about the topics. It is very instructive for me to listen to the impressive ideas or different opinions of our classmates.
Through having these discussions, I think not only my English expressions have improved, but also my logical thinking skills have grown up. I will continue to work hard so that I can talk to native English speakers with confidence.
(St. Margaret's Junior High School 3rd Year)