Course Introduction
<SA650:SAT Foundation>
Our SAT Foundation course is tailored to high school juniors (HS2) who are looking for an SAT preparation program focused on the reading and writing sections of the test. Each week in Terms A and B covers different topics and question types that appear on the test. After briefly covering math in Term C, we will focus on test-taking practice for the rest of the year. This course also includes diagnostic tests administered under actual test-taking conditions in order to offer each student personalized insight into their progress, as well as activities for students to begin their college research as well.
<SA680:SAT Advanced>
Our SAT Advanced course is geared to high school seniors (HS3) who are familiar with SAT test-taking strategies. This course offers a flexible curriculum to respond to students' needs. Instructors carefully consider actual performance on past tests and practice tests to help students find and practice strategies most effective for them.
Course Details
| | |
| --- | --- |
| School hours | 3 hours per week |
| Placement test | Students who wish to take this course must take a placement test. |
| Available Site | Shibuya |
From the Lecturer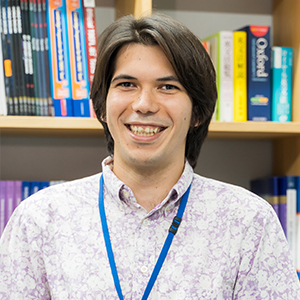 Kalau Almony
English teacher since 2013
MA in East Asian Languages and Literature from University of Hawaii Manoa (2017)
BA in Comparative Literature from Brown University (2012)
SA650, 680, and 690 form a sequence of courses designed to prepare students not only for the SAT® test, but also for the US college application process. SA650 introduces students to the SAT® test and test-taking techniques, but it also includes activities such as presentations on the college of the student's choice to encourage students to begin their college research and planning. In SA680, students will take and review practice tests, while also beginning work on college essays. In SA690 we switch fully to work on college applications. While we at J PREP pride ourselves on providing comprehensive support for students who dream of studying abroad, I firmly believe students' greatest resource is each other. My goal as coordinator for these courses is to build an environment where students can work together and learn from each other in order to achieve their goals.