Course Introduction
<LA510:Academic / Narrative Writing>
Our Academic and Narrative Writing course will introduce students to different ways of writing in English that will be useful in any academic or professional track. In this course students will read and discuss various writing samples, as well as be expected to write their own material based on the themes or styles that they are studying.
Students who join this course should be moderately comfortable writing in English, as the main focus of this course is advanced level writing. Basic grammar and vocabulary is not the focus. Rather students will learn about style and different modes of expression.
<LA511:Intro to Science and Technology>
This is an introduction to several advanced-level scientific topics. Previous courses have covered topics in biology, chemistry, and physics. Specific topics covered will be chosen based on student age, level, and interest. In class, there will be a mix of lecture, testing and practice problems, as well as group discussions.
Students will be expected to complete readings from an American high school-level textbook each week, as well as complete and submit short problem sets for homework. This class is highly recommended for students with a strong interest in scientific inquiry or who are considering studying abroad in the near future.
<LA512:Economics>
This course uses Mankiw's Principles of Economics, one of the most widely taught economics texts in the world. The course covers fundamental economics topics that will be taught in an introductory college or AP-level course.
Students will familiarize themselves with basic economics topics as well as the concepts key to economic reasoning.
Students will 1) discuss and develop their understanding of the reading and homework questions, 2) examine new concepts through lectures and practice problems, and 3) apply economic principles and thinking to real life situations and case studies.
Course Details
<LA510>
| | |
| --- | --- |
| School hours | 2 hours per week |
| Enter the course | Students cannot enter this course in the second half of each term. |
| Available Site | Shibuya |
<LA511>
| | |
| --- | --- |
| School hours | 2 hours per week |
<LA512>
| | |
| --- | --- |
| School hours | 2 hours per week |
| | |
| --- | --- |
| Placement test | Students who wish to take these courses must take a placement test. |
From the Lecturer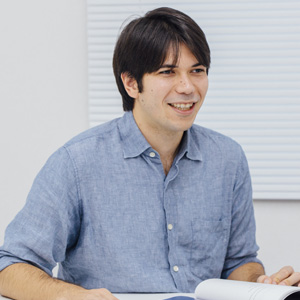 Kalau Almony
English teacher since 2013
MA in East Asian Languages and Literature from University of Hawaii Mānoa (2017)
BA in Comparative Literature from Brown University (2012)
More often than not, student writing is done under strict deadlines with days or even just hours to complete an assignment.
One of the goals of this class is to give students a little bit more time to reflect not only on grammatical accuracy, but whether the words on the page match the ideas in their minds. By working through multiple drafts, workshopping, and revising their own work, I hope students learn how to read their own writing critically and see what steps to take to improve their own writing in the future.